Are you tired of unsightly toenails and wishing you could get rid of this annoying fungal infection once and for all?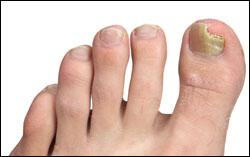 If you suffer from fungal toenails, you're not alone.  Just because summer isn't here yet, doesn't mean you should let your toenail fungus be.  Toenail fungus that persists and becomes painful can result in more serious health conditions and loss of the nail, so it is important to seek professional care from our Austin foot doctors right away if you detect signs of a serious infection. And even if you think your toenails are healthy, it is important to take extra precautions to avoid toenail fungus altogether. Let's take a look at how you can do this.
Avoid Embarrassing Toenail Fungus
A toenail infection, or onychomycosis, is one of the most common infections of the foot.  Toenail fungus is often characterized by the thickening of your toenail plate, debris under the toenail, a lifting of the leading edge of the nail, and a change in nail color.
When it comes to protecting your feet and nails from harmful infections, prevention is key.  The following tips are important to consider when avoiding toenail fungus:
Practice good hygiene and inspect feet and toes regularly
Try not to injure your nail by cutting it too short, as trauma to the nail may lead to infection
Wear moisture wicking socks
Wear dry, proper-fitting shoes that allow air to circulate around your feet
Wear shower sandals when you are at a public pool or shower
If left untreated, a nail fungus can infect your other toenails, the skin on your feet and even your fingernails.  In severe cases, the infection may even impair your ability to walk or it may lead to painful ingrown toenails.  It is important to always seek care from your podiatrist in Houston when you notice any sign of an infection.
At Austin Podiatry we offer toenail fungus laser treatment that can safely treat nail fungus while significantly reducing nail infection.  You can treat your toenail infections more conveniently and comfortably with toenail fungus laser treatment at Austin Podiatry.  If you are tired of discolored, thick toenails, our laser treatment helps create a quick, effective solution to foot fungus.  Contact our office today to learn more about toenail fungus laser treatment in Austin and how you can further prevent this embarrassing condition.